Graphic Designer/Digital Evangelist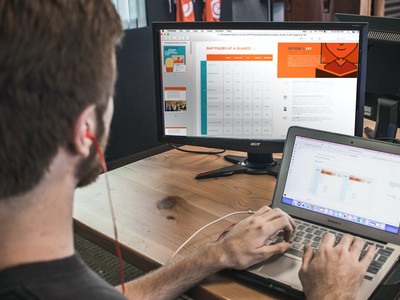 Apply
Here's an opportunity to be on social media for Jesus. How cool is that?!
VFC94Q
AWR Center for Digital Evangelism Philippines
Silang, Philippines
12-24 Months
On site
Responsibilities
This call's primary responsibilities are for a person with a passion and knowledge/experience in graphic arts to create such things as social media advertisements for both the CDE and cell phone evangelism around the world. This person would also be creating graphic arts and layout for resources and/or Bible study materials. These evangelistic advertisements are to find people searching for answers, interested in studying the Bible, or requesting prayer.
Qualifications
Must speak English, bilingual preferred.
Experience and knowledge in graphic arts are needed
1 Year College/Univ.
Must have a passion to lead people to Jesus
Must be able to talk well on the phone
Give/lead Bible studies
Samples of prior work/designs/artwork should be sent as an example of the type of work the volunteer would create. Creativity in not only layout and design but also in drawing up original art/sketches a plus.
Attire
Men: dress slacks, either button down shirts, polo style shirts or national attire (barongs, etc) and shoes. A uniform shirt may be provided.
Ladies - dresses, slacks, skirts, business casual. Due to culture, sleeveless cannot be worn to work. Swimwear should be one piece. Sneakers, denim, and t-shirts should not be worn to work. Everyone's dress should be neat and representative of a Christian standard.
Unacceptable Dress: Sneakers, denim, and t-shirts should not be worn to work. No jewelry.
Accommodations
Dormitory style rooms in Division owned housing on campus. Two volunteers will share one room. There are two large common kitchen's (one for girls and one for guys), with a refrigerator, stove, oven, and some basic kitchen utensils.
Included
Visa
Local Travel
Accommodations
Monthly Living Allowance - PHP 11,000
Utilities
Insurance
Not Included
Travel to and from location
Food\Meals
Medical\Inoculations
Restrictions
No Married couple accommodations
Compensation
Monthly Living Allowance - PHP 11,000
Additional
Visit http://cde.awr.org to learn more about the volunteer work.
Volunteer will be given a cell phone for work and/or internet allowance. Missionary allowance may differ depending on location of remote work as necessitated due to Covid restrictions.
Photo by Campaign Creators on Unsplash