Medical support in Training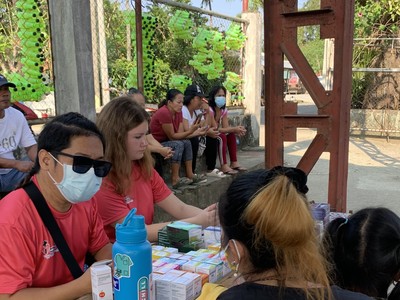 Apply
GROWING WHILE SERVING! Connect with the community by serving in a local private clinic, Pagudpud Adventist Wellness Center (PAWC), in the northwestern part of the Philippines through the Ministry of Healing where learning primary medical procedures
VFAAHO
Northern Luzon Mission
PAGUDPUD, Philippines
8 MONTHS
On site
Responsibilities
Assist physicians, laboratory technologists, radiologic technologists, and pharmacists with their daily duties in the clinic.
Aid in accommodating patients coming to the Out-Patient Department (OPD) and at the Emergency Room (ER).
Actively participate in the clinic, church, and community service events.
Qualifications
At least one year in college with medically inclined courses.
Willingness to work in the clinic regarding cultural differences.
Eager to learn various primary medical procedures the clinic can offer.
Passion for sharing the gospel and serving the community.
Attire
Scrub suits and closed shoes are required when working in the clinic or on patient's home visitations.
Wear presentable and modest clothes when attending church services.
Females should put on at least knee-level dresses or skirts. Refrain from wearing low-neckline blouses, short skirts, shorts, caps, or tank tops. Use one-piece swimwear.
Males should wear a button-down shirt or a polo shirt when attending church services.
No jewelry.
Accommodations
Well-furnished and comfortable air-conditioned dorm apartments with hot & cold showers.
Separate rooms for males and females.
Internet connection on the campus.
Kitchen with refrigerator, oven, water dispenser, and common essential cooking tools.
Living There
Pagudpud Adventist Wellness Center (PAWC) is located in a small famous tourist destination town on the northwesternmost tip part of the Philippines. PAWC is on the same campus where the church is located. The clinic offers Urgent Care, Pharmacy, Laboratory, OPD, and X-ray services. Aimed to be an infirmary by the end of 2023 where it'll be able to have birthing services. Blessed with its beautiful beaches, waterfalls, and landscape sceneries, you'll find time to enjoy on your spare time.

Included
Raise an amount of $5000 for In His Service Amianan (IHSA) which covers for insurance, visa renewals, in-country travel, monthly stipend, accommodation, utilities, and laundry services.
Not Included
Restrictions
No married couple accommodations.
Compensation
Monthly stipend of $100.00 for personal expenditures.
Additional
In His Service Amianan (IHSA) assists the Northern Luzon Mission (NLM) and Pagudpud Adventist Wellness Center (PAWC) with arrangements and guidance. Pastor Jay Coon is IHSA's Mission Trip Director who will accompany the student missionaries to Pagudpud and provide additional support.
For further questions, contact Pr. Jay Coon from Seattle, Washington at 253-653-9880.
Visit us at ihsamission.com.
Parents or family members of the student missionaries are very welcome to visit.