Assistant Dean- Female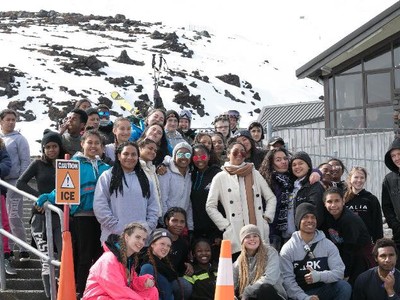 Apply
Ready for an adventure whilst serving? Passionate about youth? This is a great opportunity in New Zealand for you to lead and mentor female students at Longburn Adventist College.
VF89CQ
Longburn Adventist College
New Zealand
12-24 months
On site
Responsibilities
Day-to Day Operations: To assist in the day-today operations of the dormitories
Work collaboratively with boarding staff to run the dorm programme in accordance with statutes and regulations of the Hostels License, in accordance with 'The Education (Hostels) Regulations 2005'.
Be available for boarder's spiritual needs.
Contribute to a shift roster for supervision of boarders.
Assist with meals as required.
Maintain attendance registers for on-site and off-site events (eg, meals, worships, study, morning and evening routines and weekend routines).
Implement first aid and assist in caring for sick boarders.
Implement boarding software to support student management and pastoral care.
Support transportation of boarders.
Attend boarding staff meetings on a regular basis.
Contribute to the daily study programmes for boarders as well as church on Sabbath.
Support boarding students in their study programme.
Be available at LAC House when boarders are in school.
Qualifications
Ability to work and minister to young people.
Able to integrate and understand ethnic diversity and live within a multicultural environment.
At least two years driving license (manual preferred).
Drivers license mandatory.
English (Fluent)
Computer literate (experience with Gmail and Microsoft Office/Google Docs).
Attire
Uniformed when on duty (staff polo shirt and jacket provided). Keep in mind that you will be a role model and seen as leader.
Modest, clean, professional and generally appropriate for task at hand.
Unacceptable Dress: No offensive messages on apparel. Tattoos must be covered.
Accommodations
Self-contained, furnished two bedroom unit within the dormitory.
Bedding and linen provided
Kitchen utensils and crockery provided.
All meals can be eaten with the boarders at the school cafeteria during term time. Please note: Cafeteria meals are only provided during school time when boarders are present.
Included
This is a volunteer position that comes with accommodation and food provided free of charge at LAC House and utilities (including work mobile and internet), access to school vehicles (with a personal, local travel allowance of 50km per week) and health insurance (arranged through the Adventist Volunteer Service).
There is a weekly living allowance (stipend) of NZD $140.00. During the school holidays, the weekly living allowance increases to $200.00 if the dean is actively volunteering their time in the dorms. If not, no stipend will be made in the holidays.
Volunteers are to arrange their own flights and travel. The NZPUC agrees to reimburse up to NZD $2,000.00 for return travel from home upon the completion of the agreed terms of this agreement.
If a volunteer dean is required to be sent home due to misconduct, the airfare or cost of travel will be the sole responsibility of the volunteer dean.
Restrictions
Compensation
Monthly Living Allowance: NZD560
Additional
The Religious Workers Visa is the preferred option for successful applicants as not many nationalities can apply for a Working Holiday Visa. LAC can provide assistance with application fees for those applying for a Religious Workers Visa. LAC can provide assistance with application fees for those applying for a Religious Workers Visa
All volunteers must obtain a police clearance certificate, it is also required to apply for a Religious Workers Visa.
Photo Credit: Kofi Omoah